A Level Subjects
* Please consult with Admissions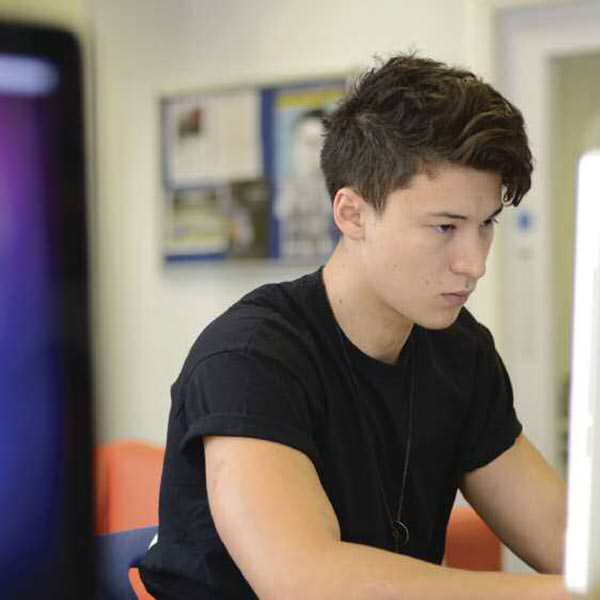 University Entrance
Helping each student to make a confident application to university is one of the strengths of our UCAS Tutor system. Each student is designated a UCAS Tutor, who has experience in their chosen field of study, to oversee and provide feedback on all elements of the UCAS application process. This not only means completing the student reference and assisting with personal statements, but also giving suggestions on appropriate work experience, academic short courses and identifying the perfect estination and course for each student's personal needs and ambitions.
With the number of applications to UK universities increasing each year, applicants to undergraduate study must be able to differentiate their applications from others.
Our success in this field is proven, with more than half of our graduates being admitted to Russell Group universities, with 20% of them winning a place at the elite universities of Cambridge, Imperial College, LSE and UCL.
Other A level Options: 1 Year, Retakes and 18 Month Courses
Ashbourne's intensive A level programmes include: one year A level courses, retake courses, 18 month A level courses beginning in January each year, transfers from AS to A2 years from other schools and Easter Revision courses. Our students consistently achieve excellent exam results on these courses with nearly 60% of the exams resulting in A and A*, rising to 80% on occasion. This level of value added to students has helped place Ashbourne in the top 5% of schools and colleges offering A levels in the UK.
Ashbourne has specialised in these courses from its beginnings over 35 years ago and has been successful for many reasons. Individual attention is an important motivator; at Ashbourne it begins with small class sizes of less than 10. This makes it easier for students to engage effectively, and, importantly, for teachers to provide more feedback with assigned work. Students receive significantly more teaching hours than is typical so they can complete the syllabus in a relaxed and confident manner with plenty of time for revision at the end of the course. They also sit mock exams, based on previous exam papers, each half term followed by constructive feedback. Ashbourne places great emphasis on teaching exam technique which we believe is critical to achieving the best A level results.
We believe that building students' confidence is critical to their success and our Personal Tutors play an important role in mentoring, motivating and monitoring. This includes as much one to one time as necessary to produce the most confident and effective application to university (UCAS).
Ashbourne embraces a friendly, informal and adult approach to education, much like a university, often presenting a refreshing change from more traditional schools. We believe this encourages independent thinking, learning and discipline. More than half of our students go on to Russell Group universities, which reflects the outstanding opportunities we offer to students who will benefit from the individual support, choice and flexibility we provide to help them reach the highest grades and achieve their personal and academic goals. All benefit from being in the company of others with similar abilities and aspirations.
As the first part of a 3 year programme leading to A level qualifications (Year 12 and 13), Ashbourne offers a self-contained one year GCSE course (Year 11). We elcome students from many diverse educational backgrounds and rarely experience difficulties in organising their transition. However, we will assess each student to ensure that they have the appropriate foundations for this course.
Supervision is much closer than A level but our GCSE students still enjoy the informal, laid back relationship between teachers and students which attracts many of our students to us. Most would say that they have never been happier educationally than when studying at Ashbourne.
Our PSHEE (Personal, Social, Health and Economic Education) helps with life skills, careers and A level choices and is very important in helping students to become independent and self-reliant learners.
Our personable approach to individual attention is most important but the college is exam oriented and schedules mock exams each half term. The transition from GCSE to A level requires a step up in maturity and independence so we aim to establish the strongest possible foundations for future study.
In Year 11, students study the core (compulsory) subjects and have a choice of subjects from the options.
Core subjects: Mathematics, Double Science, English Language, English Literature, PSHEE (Personal, Social, Health and Economics Education), Sports.
Optional subjects *: French, Spanish, Drama, Computing, History, Music, Economics, Art & Design.
* Please contact Admissions as subject availability may vary
Admission Process
Ashbourne aims for all of its A level students to achieve the highest grades possible. To ensure that Ashbourne is the right choice, we interview and assess each student before offering a place. Students are invited to come to the college for an interview and to take a tour of the premises. We believe this is the best option; however we also conduct interviews via Skype.
To prepare for the interview we ask that students spend some time beforehand writing a personal statement of not more than 500 words. Much like UCAS, this should deal with subject choices, ambitions, achievements and interests. The interview will also provide an opportunity to discuss any special provisions or medical considerations that we should take into account. It will last for twenty to thirty minutes and be followed by a tour of the college. We may ask for additional assessments depending on the subjects applied for. For example, art students will need to submit artwork, music students a theory test and an audition, science students a maths test. All students will be asked to sit a critical thinking essay based examination.
Candidates need to submit a copy of the most recent school reports, their personal statement, their passport and a copy of any other relevant supporting documents.
A Level / GCSE Courses
| | |
| --- | --- |
| Home students per term | £9,500 |
| International students per term | £10,000 |
Additional Fees
Registration fee
£300
A level exams fees per subject
£175
GCSE exams fees per subject
£125
Refundable book deposit
£250
Practical fees per subject, per term
(for A level students of Fine Art, Graphics, Music, Textiles, Drama and Sciences)
£250
Accreditation
During its most recent inspection, Ashbourne was assessed by OFSTED, the Government's inspectorate for education, as providing outstanding sixth form provision. In all other categories the college received a good assessment, and its overall effectiveness was regarded as good.
An excerpt from the report follows below and the full report may be accessed through the college's website.
"Sixth-form students at Ashbourne are characterized by their high expectations for successful academic careers and fulfilment of their ambitions. Their confidence and motivation are strengthened when they join the school so that they approach their studies diligently. As a result of very good teaching and exceptional pastoral care, they make above-average progress and achieve extremely well."
Ashbourne was also one of the first private colleges to achieve Tier 4 Sponsor status from the government body UKVI (United Kingdom Visa Immigration).